Musique française pour piano et violon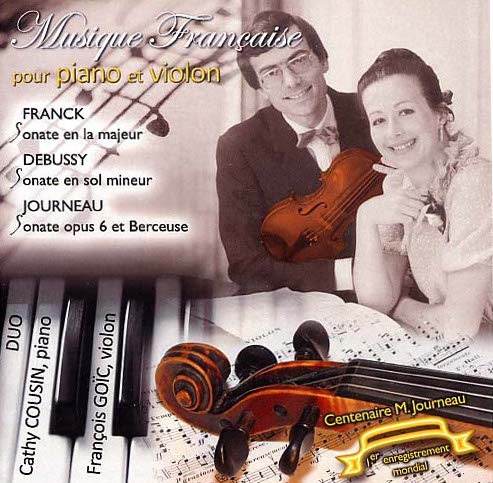 Authors :
Franck, Debussy, Journeau
Title :
"Musique française pour piano et violon"


Works :

Franck : "Sonate en la majeur"
Debussy : "Sonate en sol mineur"
Journeau : "Sonate" (éditions Combre) , "Berceuse" for piano and violin

Particular points :
Journeau's centenary, first world recording, piano solo
Interpreters :
Cathy Cousin/ François Goïc duet
Running time :
72'30"
Produced by :
Cathy Cousin/François Goïc duet (41 700 Cour-Cheverny), DCG 9801 numeric recording (1998)
Distributed by :
Contact Cathy Cousin and François Goïc: cathycousin@hotmail.fr
Booklet :
4 pages in French (one page about the duet, one about Maurice Journeau)
Press articles
"DNA", Strasbourg - n°117 (May 20th, 1998)
"Régionales" le magazine culturel de la région Centre. n°31 (Autumn 1998)
"Interlignes", bulletin de communication interne de la FNCMR (Fédération Nationale des Centres Musicaux Ruraux).
"Le Journal de la CMF", n°479 (December 1998)
"La Nouvelle République", édition de Blois (20/01/99)
"Quoi de neuf ...", Hachette Filipacchi medias, Blois - n°12 (February 1999)
"OUEST-FRANCE" (6 février 1999)
"La Jaune et la Rouge" (March 1999) - "Discographie" (a criticism by Jean SALMONA, page 58)
"Strasbourg Magazine" - n°98 (April 1999)
"La lettre du Musicien" n°223 (May 1999, 2nd fortnight) - Tablature ("Auto-production") p.46
"Nantes Passion" - November 1999
Commentary
The CD is a sample of quite rare music for piano and violin and a recording of historic interest (first world recording for the composer's centenary) thanks to a permanent piano and violin duet, well-known in festivals organized in the Center of France and in Strasbourg.
The sonata (opus 6), technically, gives an important part as much to the piano as to the violin, according to the composer himself.
The "Berceuse" (opus 22) is a very short piece composed in 1935 and still unpublished, premiered by Gil Graven, a french international soloist.