Quatuor à Cordes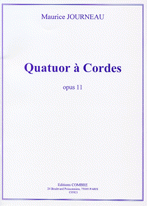 Opus : 11
Date of composition : 1927
Instrument(s) : violin/violin/viola/cello
Publisher : Combre
Duration : 21'
Although written by a young man, this string quartet already was a quite mature work.
Journeau was 28 years old : a passionate age, thus a passionate musical work.
His way of writing already was firm and strongly personal : the composer will later consider the work as a sample of his own style of writing.
A short historical survey:
- First performance in 1930, by Eugène Bozza (a French composer and violonist) and Jean Martinon.The French critics of the time appreciated the work
- Broadcasting on the French Radio in 1951 with the French "Quatuor Quattrochi".
- Recording in 2000 by the French "Quatuor de Chartres" (compact-disc, "REM")
Musical style:
It refers to the traditional way of writing you find with Ravel, Fauré and Debussy
For piano duets : a transcription for four hands, written by the composer himself.
Buy online
Buy online at Di-Arezzo
Buy online at MusicRoom